Melonade is a craft aperitif born under the sun of Provence. It's made from Cavaillon melons, grown in the unique soil of Provence in the South of France, and harvested at maturity for an intensity of taste and optimal flavours.
Richly aromatic, this fruity aperitif is the ideal base for a laid-back, Southern French-inspired spritz. Alternatively, drink it neat over crushed ice or mix with sparkling water, lemonade, tonic or in cocktails.
« Time is precious. A stolen moment at the end of a work day, a Sunday invitation, a night out on the town…
This is when you get to let go, breathe deeply, mellow out and take a few moments to relax with your friends over a drink. And when this moment is so rare, you want to be good to yourself.
You want a taste that you love, a bit of fun and panache without getting excessive. Melonade is your natural drink of choice.
Glowing orange in your glass like the setting Provençal sun, Melonade therefore sets a MELO mood par excellence with your friends, to spend a joyful moment in a relaxed and MELO vibe. »
12% Alcohol content
Colour. Orange yellow with golden reflections. Clear & shiny
Generous taste of ripe melon, juicy flesh, combined with a soft sweet taste
Nose. Powerful and fruity nose of ripe of melon
After taste. Good length on the palate, sweet fruit persistence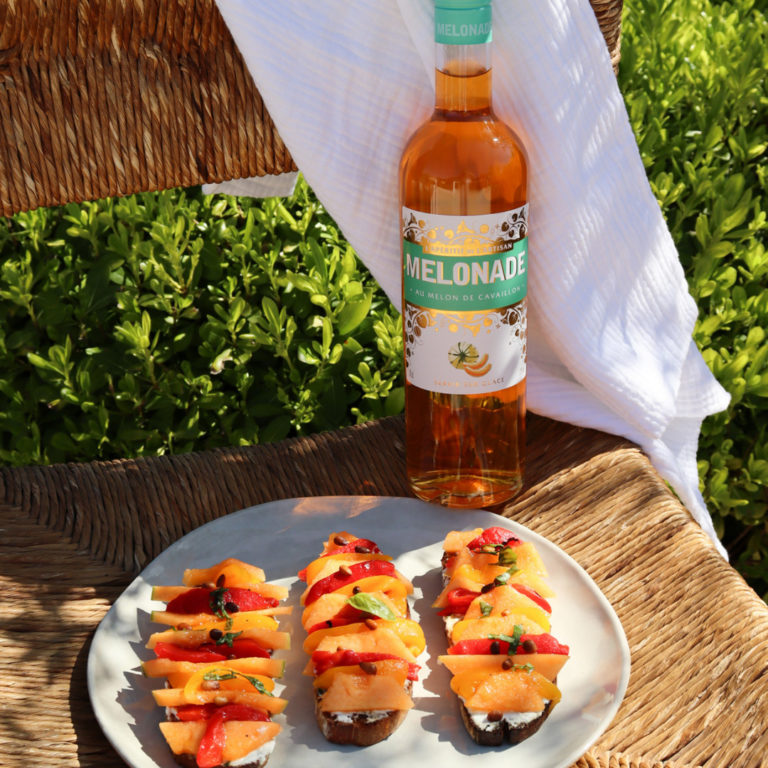 CANTALOUPE MELON ~ The most popular melon to come from Cavaillon is the cantaloupe; a small round melon with green stripes on the outside and rich orange flesh inside that positively explode with sweetness and floral fragrance.
MELON FESTIVAL ~ This event takes place each year , the weekend before the 14th July. You can find all things related to this well loved local fruit. Cooking competitions, melon tastings, evening markets, street parade, running of Camargue horses and live music.